Welcome Let's Quilt Along Followers!
Welcome Let's Quilt Along Followers!
We're so happy you stopped by!
I don't know about you, but I've really missed being at the many in-person quilt shows and events – I've given many batting lectures at those events and I'm having serious in-person connection withdrawals!
Hopefully we'll all be able to connect in person again soon, but in the meantime, we're fortunate because we have many online events to join in on and we can continue to connect online via platforms like Instagram, right?
Thank you technology!

Let's Quilt Along Partnership
We're delighted to partner with the team at Let's Quilt Along, a great resource for learning about the many online quilting events that are taking place.
I'm sure these events have helped many of us stay sane during a very uncertain year (I'm looking at you, 2020!) and I'm sure they'll continue to provide us with inspiration and community, something our beloved quilting industry is known for.
Many thanks to the team at Let's Quilt Along for inviting us to partner with them and for offering us such a wonderful resource!
Be sure to follow Let's Quilt Along on Instagram, Facebook and Twitter for the latest news on more fun quilting events and amazing giveaways, including Hobbs Batting giveaways!
Hosting an online quilting event?
Be sure to reach out to the team at Let's Quilt Along so they can add your online event to their calendar!
And speaking of online events, we have one of our own to share!
Did you know we offer our 'Batting: What's Inside Matters' lecture via Zoom?
We do, it's FREE & you could WIN BATTING!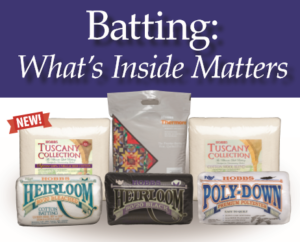 Batting Lectures & Presentations
Think your guild members, long arm group or local shop would be interested in our batting lecture, 'Batting: What's Inside Matters,' presented by yours truly?
If so, please reach out – I'd love to share our batting lecture with your group!
There's no charge for the 1 1/2 hour presentation which includes:
the questions we ask to assist you in narrowing down the many batting choices to what's 'best' for achieving the results you desire;

the various fiber types, and pros and (potential) cons of each fiber and batting type;

which battings we recommend for specific use cases (modern quilts, show quilts, bed quilts, baby quilts, art quilts, runners, wall hangings, personal items, home decor items, etc.);

the proper use and care of battings and quilts;

tips and tricks for achieving great results;

and so much more, including a chance to WIN BATTING!
If you'd like to schedule our presentation for your group, please send an email to me at shackney at hobbsbondedfibers dot com (click on that link to the left to send me an email – please include the following information):
Proposed Lecture Date(s) and Time(s):

Name of Your Guild or Group:

Group City & State:

# of Members in Your Group:

Expected Lecture/Presentation Attendance:

Any Other Pertinent Info:
As soon as I receive the above information I'll get back to you with my availability, and additional information you can share in promoting this lecture to your group.

Looking for other opportunities to WIN Hobbs Batting?
Then be sure to follow us on Instagram – @hobbsbatting – where we have regular giveaways and share all sorts of fun quilting and sewing stuff!
Want to be the first to know about new products, fun projects our ambassadors create, events we'll be attending (when that's again possible) and more fun stuff?
Be sure to subscribe to our emails – we promise to keep your info confidential and to not bombard you with salesy emails (don't you just hate it when companies do that?!).
Searching for more information on our products?
There's a lot of valuable information in the Products section of our website here:
Hobbs Batting Product Information

And if you have specific batting questions related to a current or future project, please don't hesitate to reach out to me, anytime. I'm happy to help you narrow down the many choices to the best batting(s) for your desired results.
I can be reached by email here:
Stephanie Hackney (click on my name to send me an email)
Thanks again for stopping by – the loyalty shown toward our product line over the last 42+ years is something we are very proud of and for which we are so, so grateful – we hope you'll soon become a loyal customer.
Happy Creating,
Stephanie
Stephanie Hackney/Director of Sales & Marketing, Craft & Retail Division