Tuscany Batting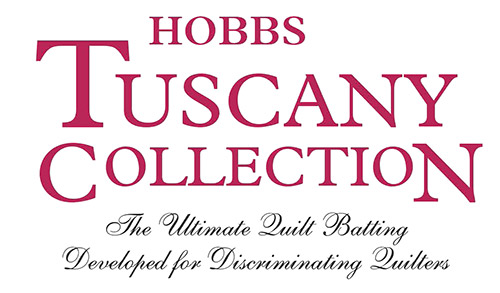 Hobbs Tuscany Batting was launched as a premium batting offering for retailers, long-armers, and quilters.
With exceptional depth, loft, dimension and hand-finishing, Hobbs Tuscany Batting is the choice for the most discerning quilters.
To hear more about this line of battings, click the words directly below to hear a voice recording by our director of sales & marketing, Stephanie Hackney:
What makes the Hobbs Tuscany Batting offering different from Hobbs' Heirloom® Batting line is the method by which the products are finished – each product in Hobbs' Tuscany Batting line is lovingly cut, folded and packaged by hand, providing quilters with a batting that has few if any wrinkles or creases, and wonderful loft in those products designed to provide high loft.
Professional show quilters and long-armers love it for its reliability and the beautiful results this batting provides.
And independent and online retailers love Tuscany Batting not just for the variety of fiber types offered and its premium quality, but also because it's finished shape makes it easy to merchandise, and perhaps most importantly, because this line of batting products can be purchased in 'eaches' (rather than only by the case).
Hobbs' Tuscany Batting line consists of six types of batting – click on the links below to learn more about each of these premium battings:
Whether you're creating a show quilt, a quilt to give as a gift, a quilt you hope will become a family heirloom, or an everyday 'utility' quilt, you simply can't beat Hobbs Tuscany Batting for delivering the very best results!